When is Book 3 of Reassembly Coming Out?
Just thought I'd give y'all a quick update on book 3. I know you're chomping at the bit, and believe me, so am I.
Book 3 is called Ship Show, and in my estimation, it's the best yet. As the title suggests, Geddy and the crew wind up at the galaxy's largest trade show, but we also get to see Doc's home planet of Ornea and a new world called Verdithea, which is one of the most dangerous and mysterious planets in Reassembly.
I used to think everything I wrote was kind of crappy, but I've really improved my storytelling and prose these past few years, and I can unreservedly say this is some of my best work. I'm super proud of it and I cannot wait to unleash it on the world.
Here's the cover, which my subscribers have already seen: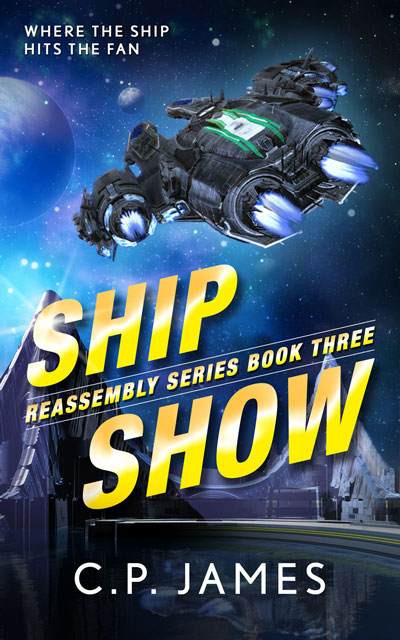 So when's it coming out? I'm aiming for a mid February pre-order and either a late February or early March release. Subscribers will get a sneak peek of chapter 1 when I put up the pre-order.
What's taking so freaking long?
Book 2 came out in August, and as I write this, it's Jan. 26. My goal is normally to release a book every four months, with a stretch goal of three months, so yes, I'm behind schedule. But I moved to Ecuador in late August and hardly wrote for several weeks, then I decided I ought to write Geddy's Gambit, the prequel novella, in order to grow my email list. That meant I didn't really even start outlining Ship Show until late October, so here we are.
Trust me, I want to write and release as fast as possible. This series has done encouragingly well, but until not well enough to drop my part-time remote job and write all day, every day. Hopefully, people respond well enough to book 3 that I move closer to writing full-time. That's the goal.
What about book 4?
There will be a book 4, and this time, I outlined it right after drafting book 3 so I can dive right in. Hopefully, I'll be able to release that early summer, assuming the four-month schedule.
So, there you have it. I appreciate your patience and promise it will be rewarded in the time it would take for Voprot to write a limerick.